My Redang post.
YES I WENT TO REDANG.

AFTER THE DETOUR TO PENANG.
finally downloaded Photoshop CS3. Silly mama deleted my Photoshop files in this computer. So here you go, first.



PUSSY !


WWWHHHHAAATTTTT?
THEY IGNORED USSSS?


SHADDDDAAAPPPPPPP.
So yes, ladies and gentlemen finally the Redang post. Um, so this post should be the continuation of
this
post. Go read it first if you haven't. So the last night, the brother fetched us to the bus station, we're speeding there because of the time wasted waiting for our burger dinner. So the journey to Redang is scary at first, but the brother's driving skill damn the pro. Literally swift left swift right. So we managed to get on the bus in time finally.
Penang --> Butterworth --> Sungai Petani, Kedah (ftw?) --> Kuala Terrenganu


So we reach the bus station early in the morning. 4 o'clock. Then can't stand the emptiness and close stores over the bus station we decided to get to the airport earlier, thought there's more food over there. You should see your faces when the driver dropped us in front of the airport.
My first question to the driver is :
"bang, ini airport ah?"



cause it is friggin the
damn yes. I thought we're like masuk the haunted place or what.
We somewhat, 3 of us sat on the bench starting to kill time.
volleyball.
weird acts.
and cards. not showing gambling stuff on my suci blog.
What happened next is already a couple of hours later, 6 hours. Well their flight delayed so we waited and waited and finally, we did some scribbling and stood in front of the Departure Hall waiting for the others.
damn nice photo taken by the peeps on the plane.
douglas paper says : I'm bored. so is he -->
and stacie's holding : Dumb asses from Studio 7,9,10 and QS.
pening boat
Reach the beach after half an hour time, too many things unexpected. Didn't know it's not private at first, therefore the people, the crowd. But the beach is awesome. And the sun is not so strong that you don't have to spend time take off your shirt and flex in front of the mirror and ask people to help you put sun tan lotion. *hint hint*
here we go, ticking off the to-do-list when you're in redang.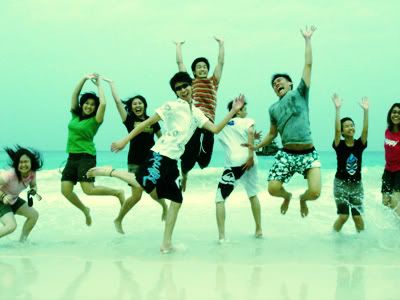 a jump photo.
So sorry Jason that you're not in. Thanks for the photo !
-grabbed from Jason's blog-
Now I was wondering, why my jumping photos has to be so ugly,
all , the, time.
You never see the one in Sue's cam. It's the utmost prawnness of life.
Dear people that didn go snorkeling :
======
HIGHLIGHT OF THE TRIP.
MAKE SANDCASTLE
to read the full concept of the architecture.
Do visit
http://thesadking.blogspot.com
or click
here
The drip-drip it is.
So we archeeteks has started the making with a plain idea of making a cube. CUBE, cube.
End up things goes slanted here and there and poof poof the idea of drip drip and go read the better english version. The archeeteks has done the design but mahai the QS didnt do any counting also.
3-4 hours of hardwork.

of people saying it's nice.
of people stopping by taking pictures of it.
of people stopping by watching.
of people name themself a competition but in the end gave up.
of people heard the loud thank you from the sea after taking picture with it.
of the guai lou video-ed it mohaha.
LOVELY.
So that's my lovely trip anyway.Things get very boring after we left the island. Of how we waited and kill time to take bus and go home and stuff. Sorry that I didn't bring my camera, and I seriously need a new one. Thanks for the pictures dear Jason KiJun Sue and Douglas. So, where's the next archeetek stop?
still,
read their version of the trip.
Ki Jun's


http://lokijun.blogspot.com/2008_05_01_archive.html



Jason's


http://mcspiky.blogspot.com/2008/05/redang-from-non-believer.html
http://mcspiky.blogspot.com/2008/05/redang-2008-1.html
http://mcspiky.blogspot.com/2008/05/redang-2008-2.html
http://mcspiky.blogspot.com/2008/05/redang-2008-3.html



Chunnymomo's


http://chunnymomo.blogspot.com/2008_05_01_archive.html
lazy aiman and shibi haven blog about their's.
off.
new love. nice song.